Logitech Z323 2.1-CH PC multimedia Speaker System
Transport yourself into your music, movies and games with the Logitech Speaker System Z323. Featuring Logitech 360-degree sound, these speakers are acoustically engineered to project audio evenly in all directions--not just in one direction, like other desktop speakers. So you hear the full range of sound throughout the room. A ported, down-firing woofer delivers rich, deep bass for more music, movie and gaming excitement. Two satellite speakers produce warm mid-range tones and crisp high notes. Auxiliary inputs make it easy to connect your Logitech Squeezebox network music player, gaming console, iPod or DVD player. A headphone jack lets you listen in privacy. And with 30 watts (RMS) of power, you have everything you need to experience big, bold sound that puts you in the middle of the music.
Logitech Z323 2.1-CH PC multimedia Speaker System
Package Includes:
Logitech Z323 2.1-CH PC multimedia Speaker System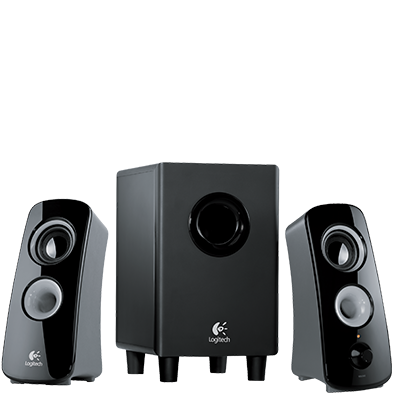 Logitech 360-degree sound—hear everything, everywhere in the room
Most desktop speakers are designed to focus all their sound in only one direction. When you sit in the "sweet spot" directly in front of the speakers, the sound is good. But when you move out of that narrow sweet spot, the full tonal range of your music starts to thin out. That killer keyboard solo may become a bit muffled. Or those blazing power chords sound muddy.
Traditional desktop speakers focus sound in one listening "sweet spot"
Logitech 360-degree speakers project sound evenly in all directions for a full-room sweet spot
Logitech solves this audio dilemma with 360-degree sound technology. Unlike traditional speakers that use only a forward-firing driver, Logitech speakers are acoustically engineered with both forward- and backward-firing drivers. The sound is projected and reflected more evenly and over a wider range of space. So, your whole room becomes a sweet spot filled with clear, rich, balanced music—even if you're rocking out behind the speakers.

Ported, down-firing subwoofer delivers deep, rich bass
When it comes to feeling that full-on ka-boom in your favorite action movie or the driving bottom end of a Sting classic, it's all about the bass. The Speaker System Z323 delivers big, deep lows. The subwoofer's extra port and down-facing design produce the kind of rich, resonant bass that brings your music, movies and games to life.
More Information

| | |
| --- | --- |
| SKU | RT5-980-000354-UA |
| Condition | used |
| UPC | 097855060570 |
| ASIN | B002FU5QM0 |
| | |
| --- | --- |
| Brand | Description |
| History | Color sit amet, consectetur adipiscing elit. In gravida pellentesque ligula, vel eleifend turpis blandit vel. Nam quis lorem ut mi mattis ullamcorper ac quis dui. Vestibulum et scelerisque ante, eu sodales mi. Nunc tincidunt tempus varius. Integer ante dolor, suscipit non faucibus a, scelerisque vitae sapien. |